Purchasing a townhouse in Manhattan is an amazing option in the Residential real estate market. Our brokers are experts in securing the perfect home with amazing privacy in New York City. They will guide you through the search with attention to the size of the townhouse, the original details, and the neighborhood. The location of the townhouse is important and will put you front row to the major attractions, restaurants, museums, and boutique shopping. We will work to ensure your comfort and confidence in your townhouse purchase.
---
---
Townhouse For Sale
22 East 67th Street, New York, NY 10065
Perfectly located on a premiere Park block between Fifth and Madison Avenue, this palatial 24-foot wide limestone townhome has undergone a complete and custom renovation. Originally built in 1915, 22 East 67th Street offers approximately 13,300 square feet of interior space, 2,200 square feet of exterior space and features soaring ceilings, large-scale rooms and beautiful light. A set of double paneled oak front doors lead an ...
---
Townhouse For Sale
134 West 121st Street, New York, NY 10027
CONH GRANTED. It's Twenty Feet Wide! Sixty-eight feet deep! This majestic mansion has parlor ceilings measuring near 13-feet in height with a large cellar sporting over 8-foot ceilings! Located in the Mount Morris Park Historic District, this is the opportunity of a lifetime to own the most stately of townhouses with original details throughout. This spectacular Renaissance Revival Style home has the detail worthy of becoming ...
---
Townhouse For Sale
111 West 119th Street, New York, NY 10026
Situated on a leafy street in the heart of the Mount Morris Park Historic District in Renaissance Harlem, this elegant Landmarked 2-unit Renaissance Revival brownstone built in 1895-96 by Neville and Bagge is in pristine condition. The building is 19-feet wide and 52.5-feet long across its four floors, with an additional 13-foot three floor extension, giving a total of 4,600 square feet of premium quality space, and the is by ...
---
Townhouse For Sale
17 East 65th Street, New York, NY 10065
THE SHERMAN FAIRCHILD MANSION One of the first modernist townhouses in Manhattan, this iconic property is rich with history, sophistication and postmodern elegance. Sherman M. Fairchild, a noted inventor and businessman, hired the architects William Hamby and George Nelson to create a home as adventurous as he was. They succeeded and the townhouse remains an architectural tour de force unlike any other in New York. The red in ...
---
Townhouse For Sale
16 East 63rd Street, New York, NY 10065
Old-world and elegant, this spacious full-floor apartment is graced by generous proportions, 12 feet ceiling heights, 2 wood burning fireplaces, parquet of Versailles floors and iconic prewar charm in this Beaux Arts townhouse built in 1876. Located on a prime UES tree-lined block of Parisian-style townhouses, steps from Central Park and within easy strolling distance to many of New York's notable shopping, dining and on a a ...
---
Townhouse For Sale
175 East 93rd Street, New York, NY 10128
First showings to begin week of 5/6! Open and lofty, pet-friendly one bedroom, one bath property in prime Upper East Side location. This property boasts a generously sized great room for living and dining, sunny north and west courtyard exposures, 10.5-foot high ceilings throughout and well-proportioned rooms. In addition, this home offers a renovated bathroom and kitchen, with great storage and stainless steel appliances. as ...
---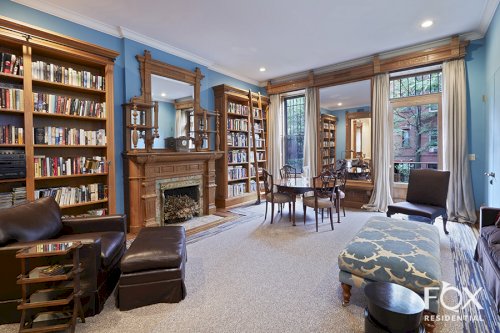 Townhouse For Sale
13 West 121st Street, New York, NY 10027
This meticulously restored Harlem townhouse with an income producing garden floor apartment was built in the 1880's and is situated on the most beautiful residential block in Harlem. Nestled among stunning townhouses, its location in the Mount Morris Historic District is a stone's throw from Marcus Garvey Park. The home has been lovingly renovated and restored while maintaining the charming original details. The five story is ...
---
Townhouse For Sale
208 East 62nd Street, New York, NY 10065
In Magnificent condition, 208 East 62nd Street is a four-story, single-family townhouse built in 1870 with a lush south-facing garden, originally designed by esteemed landscape artist Edwina Von Gal. The house is on the most desirable south side of East 62nd Street, a tree-lined street quieter than neighboring blocks. There is a plaque on the side of the house giving the history of this historic neighborhood, which comprises ...
---
Townhouse For Sale
224 East 62nd Street, New York, NY 10065
Washer Dryer Hookups; Laundry Room
---
Townhouse For Sale
352 East 69th Street, New York, NY 10021
Washer Dryer Hookups; Garden
---
Filter Listings
---
Featured Listings
UPPER EAST SIDE TOWNHOUSE Erected in 1878 by C.P.H. Gilbert, this impressive 25' wide Neo English Classical brick and brownstone, elevatored mansion features 5 floors and sits just two doors from Central Park, in the heart of Madison Avenue's Luxury ...

View More Info

A RARE PRE-WAR CONOD OPPORTUNITY TRANQUILITY AND SERENITY - these are the themes of this lovely Chelsea one bedroom condo. The apartment offers high ceilings with pre-war detail. There are hard wood floors throughout, and a modern kitchen. This one ...

View More Info
---