222 East 61st Street Upper East Side Townhouse For Sale
5 Bedrooms
6 Bathrooms
Terrace
$7,000,000
This home was the residence of one of the most courageous and respected journalists, Oriana Fallaci.
From, or in this residence, she interviewed and wrote about world leaders such as Gandhi, Golda Meir, Arafat, Ali Bhutto, Brandt, Shah Reza Pahlavi, Kissinger, South Vietnamese President Nguy?n Van Thi?u and North Vietnamese General Võ Nguyên Giáp during the Vietnam War. Kissinger later wrote that it was "the single most disastrous conversation I have ever had with any member of the press". Alfred Hitchcock, and many more. She nailed them all.
Totally renovated in 2012 this townhouse can be converted from a 2 family to single family building with additional air-rights for expansion. On the first floor the duplex apartment features one bedroom and one bathroom, eat -in kitchen, living room and a lovely dining room that leads to a very spacious outdoor space perfect for gathering. The upper level features the master bedroom with terrace, a third bedroom and two huge bathrooms.
The upper duplex (3rd and 4th floor) features an huge eat-in kitchen with a small terrace, living room, abundant closets and half bathroom, while on the upper level a very large master bedroom, a second bedroom and two bathroom.
Ownership Type

:

Multi­Family
Features

:

Terrace
---
---
Request More Details
X
Thank You!
Your message was sent.
A broker will contact you soon.
---
The Building
Building Type: Townhouse
Built: 1910
Doorman: No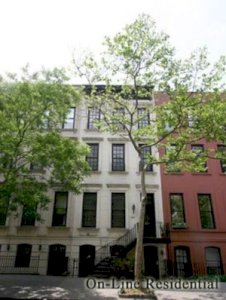 ---
The Neighborhood
222 East 61st Street
---
---
Filter Listings
Contact An Agent
Thank You!
Your message was sent.
A broker will contact you soon.