Purchasing a townhouse in Manhattan is an amazing option in the Residential real estate market. Our brokers are experts in securing the perfect home with amazing privacy in New York City. They will guide you through the search with attention to the size of the townhouse, the original details, and the neighborhood. The location of the townhouse is important and will put you front row to the major attractions, restaurants, museums, and boutique shopping. We will work to ensure your comfort and confidence in your townhouse purchase.
---
---
Townhouse For Sale
515 West 144th Street, New York, NY 10031
Originally constructed in 1910, this LEED-Certified newly redesigned home in Hamilton Heights is the perfect combination of high-end finishes, modern technology, and impeccable details while maximizing light and space. The townhouse is a 17-foot-wide, two-family Brownstone and is approximately 3,480 square feet. It features 5 bedrooms, 3 full bathrooms, 1 powder room, and an expansive backyard garden. The triplex above has a ...
---
Townhouse For Sale
471 West 146th Street, New York, NY 10031
Turn-Key Investment Opportunity with a 4% + CAP RATE! Nestled on a charming and historic Hamilton Heights/Sugar Hill block just off Convent Avenue, this elegant newly constructed fully tenanted 5,500 SF Townhouse is triple-mint and requires absolutely NO WORK! Building Composition: Two (2) Tenant Occupied Units (rent-roll and balance sheet available). Unit #1: Triplex 3 BD | 4 BA + Finished Basement + Garden. Unit #2: 3 BD | ...
---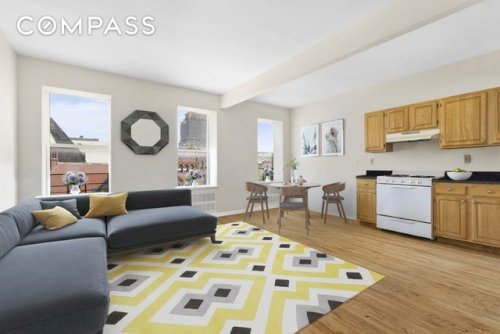 Townhouse For Sale
233 Lenox Avenue, New York, NY 10027
Welcome to the Brownstone at 233 Lenox Avenue. Located at the epicenter of the Mt. Morris Park Historic District. A meticulously renovated beauty that marries a fresh modern aesthetic with the timeless architectural detail of Harlem circa 1910. Enter the duplex which occupies the parlor and 3rd floors and you'll be greeted by a sprawling living area with soaring ceilings, distinctive wood-burning fireplace and grand dining of ...
---
Townhouse For Sale
245 West 123rd Street, New York, NY 10027
Great West Harlem Development Opportunity This 1900 built townhouse is ready for the next generation of ownership. Situated in prime West Harlem between 7th and 8th Avenues- you will never be far from the action and yet still set on a serene tree-lined block. 245 West 123rd Street is a perfect townhouse awaiting your master touches. A design palette where you can go free with expression. Current Set Up: 4 Units across 4 2 at ...
---
Townhouse For Sale
133 West 131st Street, New York, NY 10027
Have you been searching for a historic house filled with original turn of the century details to lovingly preserve and make your own?
Opportunity awaits you at 133 West 131th Street, this statuesque 17-foot wide townhouse originally constructed in 1888 has only changed hands a few times over the last 130+ years and has an abundance of details fully intact that most other homes lack and can no longer be replicated. A ...
---
Townhouse For Sale
304 West 137th Street, New York, NY 10030
Welcome to this this gorgeous Single family row-house on a pristine Central Harlem tree-lined block. Currently in handyman-special condition and configured as a legal one-family, these great bones await your attention to create a remarkable home ready to accommodate the next generation of your family. Stunning architectural elements make a great first impression when you arrive at this 15-foot-wide, approximately residence. a ...
---
Townhouse For Sale
132 West 81st Street, New York, NY 10024
132 West 81st Street is a handsome, newly renovated, 5 story single-family townhouse designed and built in 1887 by the architect Edward J. Webb. The townhouse contains 5 bedrooms, 8 bathrooms, a designer kitchen, an elevator, two gas fireplaces, a beautiful south-facing garden, a large roof deck with pop-up, a finished basement with laundry and media room, and impeccable design features such as stunning oval staircase at the ...
---
Townhouse For Sale
6 West 83rd Street, New York, NY 10024
6 West 83rd Street is a Neo Grec style single-family townhouse designed by the architect Christian Blinn in 1881 as the second in a series of four row houses. This newly renovated home is the least expensive single-family townhouse on the Upper West Side with an elevator. Others features include a glass rear wall on the lower three floors which floods the house with natural light, high-end finishes and appliances, a luxurious ...
---
Townhouse For Sale
130 East 19th Street, New York, NY 10003
Enjoy Manhattan life in a gracious Gramercy duplex penthouse with two private terraces. This two-bedroom, two-bathroom secluded space, located in a historic landmarked townhouse on tree-lined Block Beautiful, features soaring ceilings, exposed brick walls, hardwood floors and oversized windows bringing in natural light from all four exposures. Both living room and master bedroom have wood-burning fireplaces. Overlooking the a ...
---
Townhouse For Sale
108 West 131st Street, New York, NY 10027
A wonderful two unit townhouse on an historic land-marked block in Central Harlem. Perfect. Both duplex apartments offer fine townhouse living. High end design is evident from the moment you enter the parlor floor of the owners unit with its high ceilings, stone fireplace, open kitchen, dining room and powder room. The large living room windows furnish southern light which adds to the ambiance. All three floors of this unit a ...
---
Filter Listings
---
Featured Listings
This stunning 25'wide Soho townhouse was masterfully designed by renowned architect Carey Tamarkin. Newly constructed of brick, steel and concrete, the house spans over 5900 sq ft of interior space and 1525 sq ft of outdoor space. This XXX-mint home ...

View More Info
---